ALUMINIUM MOTION GUIDANCE SYSTEMS: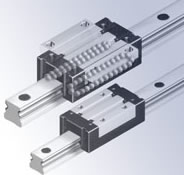 Euro-Bearings Ltd has launched a new range of motion guidance rails & carriages incorporating aluminium rails with hardened steel running tracks.
Due to the low weight & compact design of this system, it is perfect for light machinery & for materials handling. Also, being predominantly made from aluminium, it is suitable for applications where the ferrous content must be low for magnetism purposes.
Follow these steps to specify what you want.
The limits on the system are:
Maximum Speed = 2m/s
Maximum Acceleration = 30m/s2
Maximum Temperature = 60ºC
| | | |
| --- | --- | --- |
| Moment Mr | Moment Mn | Moment Mg |
Moments for this product are measured in Nm. C is the dynamic load in Newtons & C0 is the static load.