HOME > TRACK GUIDANCE SYSTEM
TRACK GUIDANCE SYSTEM :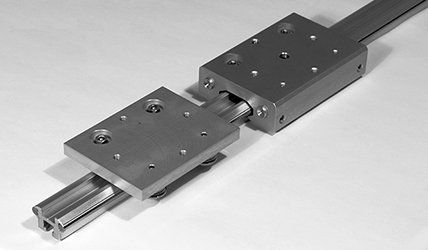 Why use a Track Guidance system?
Recirculating ball bushings and carriages have a major disadvantage in dirty environments where dirt might enter the ball tracks and cause rough running and damage. The linear Track Guidance System uses fully sealed double row ball bearings which are much more difficult to contaminate and offer much higher loadings. The outer ring of these ball bearings run directly onto precision ground rails thus producing a very smooth operation. There are two styles of carriage - open carriages & closed carriages.
For corrosion resistant systems, the carriages can be specified with stainless steel bearings and the rails with stainless steel shafts.
Velocities up to 10 m/s, acceleration of 50 m/s2 and a temperature range of -20 C to + 80 C are allowable.
Forces can be applied in horizontal, vertical and torsional directions.
Accuracy of 0.050mm per metre is attainable.