APPLICATION & DESIGN EXAMPLE -
COMBINED VERTICAL & HORIZONTAL SYSTEM

Another simple example of a Standard Combined Roller Bearing with mating steel profile. This design forms the basis of a forklift truck mast. In this case the mast travels on another set of bearings & rails to make a multi axis lifter.
In the diagram the vertical mast is a simple (mono) lift, but it could be extended with another set of bearings and rails to make a 2-stage mast.

The system shown can be used for a variety of applications. For example to load furnaces or as the basis of a palletising / packaging machine.

The combined roller bearings are shown with the mounting plates. The bearings can also be welded directly to the structure. However the plates do make maintenance much easier as they can simply be unbolted & replaced, reducing downtime.
Read our technical information on Combined Roller Bearings or view other application examples.

En Français? Voir notre catalogue ici.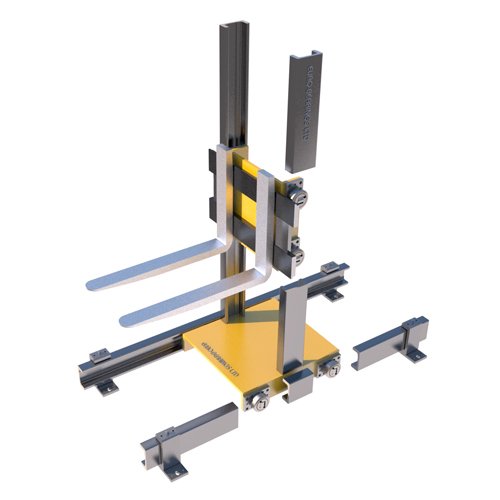 Related Products and Links