TECHNICAL INFORMATION FOR COMBINED ROLLER BEARINGS AND RAILS
What is a Combined Roller Bearing?
A combined roller bearing is one assembly combining three components:
1. Radial Bearing - rolls on the flanges of profiled steel channel
2. Axial Bearing (side roller) - rolls on web of profiles steel channel
3. Stub Axle - holds both bearings and provides an easy welding point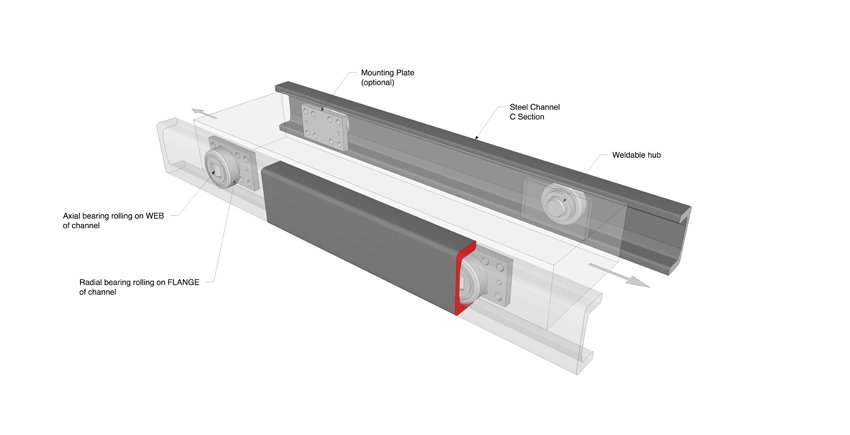 Click the above drawing to enlarge. It shows combined roller bearings sitting in C section channels with the radial bearings rolling on the flange of the channel. The axial rollers are in contact with the web of the channel. The weldable steel hubs are facing away from the channel and are shown with a mounting plate.

The advantages of using this product are:
- The LARGE LOADS these bearings can carry BOTH HORIZONTALLY & VERTICALLY
- The fact there is BOTH RADIAL & AXIAL SUPPORT
- It ENGINEERS OUT a lot of pre-fabricating & machining times & cost
- The items are READILY AVAILABLE from our stock and a project can be completed very quickly
- Once the stub axle is WELDED into place, the replacement of both radial & axial rollers is easy and reduces future downtime costs.

Calculate which size you need...
Note: All lube points are for M6 grease nipples (not supplied).
4.053, 4.054 & 4.055 don't have grease holes.