OTHER COMBINED ROLLER BEARINGS
We recommend the following specialist combined roller bearing units are only used for replacement parts.

JC4.061
This JC unit offers the ability to pre-load the bearings and hence reduce the play between the bearings and the rails. The combined roller bearing should be positioned so that is carrying the main force and the smaller adjustable bearing should located against the opposite flange with a clearance of 0.1mm. Whilst the Hertzian pressure remains the same as the 4.061, it is best to avoid high loads to minimise wear on the profile. When the bearing is adjusted, it is important to ensure the unit runs smoothly along the whole length of the rail. Click the technical drawing to enlarge.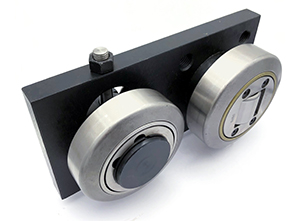 3.055

This special unit offers the maximum resistance against dirt for applications such as brick & block making, steel works and mining. The radial bearing can be relubricated from the side of the mounting plate whilst the axial ball bearings are lubricated for life. Click the technical drawing to enlarge.


4.085

This is a Jumbo combined roller bearing with an OD of 180mm. The axial roller is adjustable. Click the technical drawing to enlarge.


Screw Adjustable Combined Roller Bearings (SA)

We now offer a range of screw adjustable combined roller bearings for replacement purposes. The axial roller can be adjusted by a screw in the back of the hub. Full information can be found on the Screw Adjustable CR page.


Related Products and Links