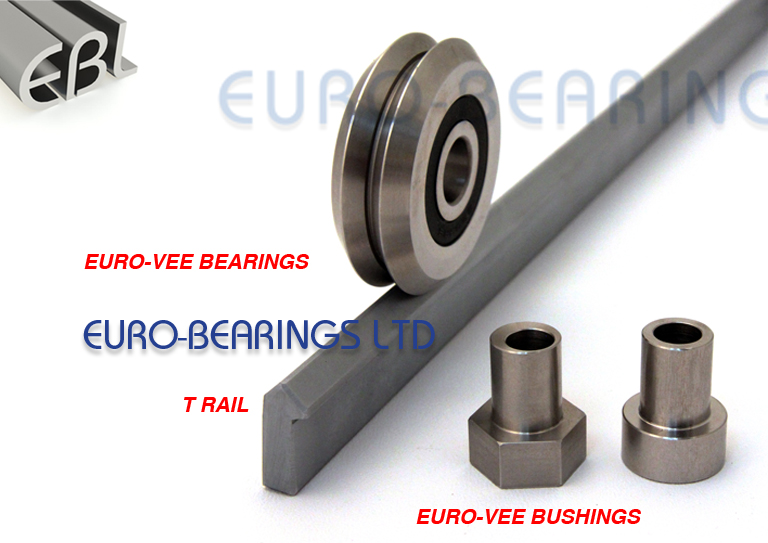 EURO-VEE BEARINGS
Our Euro-Vee Bearings are available in 4 sizes which can take radial loads from 100kg up to 800kg. A cost effective linear sliding system can be built using our corresponding T Rail and Euro-Vee Bushings for applications requiring either vertical or horizontal movement.
The bearings are sealed and lubricated for life and so will tolerate being used in dirty environments. The Vee Bushings are used to mount these bearings. We have both concentric and eccentric bushings on stock, in both imperial and metric sizes.
A typical system would use a pair of rails with a minimum of four bearings acting as wheels for a carriage. Half the number of bearings would be mounted on the concentric bushings and the other half mounted on the eccentric type. All the bearings are held in position on their bushings by a bolt fixed through the centre of the bushing. By rotating the eccentric bushings it is possible to tighten the bearings onto (or off) the track. The eccentric bushings have a hex head so that they can be rotated with a spanner before their fixing bolts are tightened back up. The system should be designed so that the main loads are taken by the bearings on the concentric bushings.
The T Rail can either be drilled and bolted down (to a square edge) or it can be welded into position. The body of the rail is soft so it can be easily drilled. The top edge of the rail (where the bearing runs) is induction hardened and polished.
It is also worthing knowing that our Euro-Vee Bearings can be run on round (hardened and ground) linear shaft.
Example applications include:
packaging machinery
laboratory automation
woodworking machinery
vending machines
sliding doors (eg machine tool doors)
Our Euro-Vee Bearings are also available in stainless steel.