In some applications, it is necessary to specify corrosion resistant products (e.g. food, drink & pharmaceuticals) while in other applications it may be desirable but not essential (e.g. offshore, external use). While a few linear motion products are available in stainless steel, there are often high prices, long lead times & lower load capacities associated with specifying stainless steel.
So what options are there?
For light duty applications there are a few options available in stainless steel. For example miniature motion guidance, round shaft linear products and track guidance systems.
For heavy duty applications there is little choice but some products can be made corrosion resistant by the use of coatings. The most effective coating for linear motion systems is Thin Dense Chromium (TDC). TDC coating provides a hard finish which is able to withstand the high contact load between the bearing and its corresponding track.
Which Products are available?
Euro-Bearings Ltd can offer Combined Roller Bearings with TDC coating to provide a heavy duty corrosion resistant linear motion system. The bearings retain their load capacities (unlike stainless steel alternatives) and maintenance and downtime can be reduced. The TDC coating can also be applied to the rails (channel) and flanged clamps if desired. The combined roller bearings offer a versatile linear motion system which can be used in horizontal, vertical or cantilevered applications.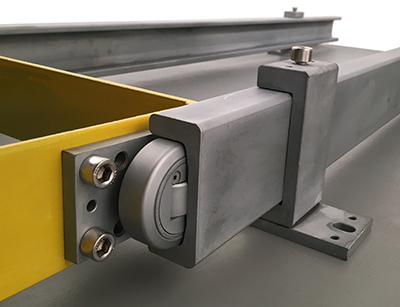 Another linear motion system to benefit from TDC coating is Vee bearings. While the Vee bearings themselves can be supplied in stainless steel, the T rail to suit the bearings is not so readily available due to the high costs associated with stainless steel. The rails can be TDC coated after any necessary fabrication work and the lead time can be as little as two weeks.
What should I choose?
Every linear motion application should be assessed individually. Use our flow chart to help select which product might be suitable, or ask our technical sales team for advice.
If corrosion resistance is required then consider the following products:
Light to medium duty –
Miniature Motion Guidance (Stainless steel)
Linear bearings & shafts (Stainless steel)
Track Guidance System (Stainless steel)
Exterior Slide System (Aluminium & Delrin)
Vee Bearings & Rails (Stainless steel or TDC coated)
Heavy duty –
Combined Roller Bearings (TDC coated) & Channel (TDC coated or Stainless steel)
Linear bearings & shafts (Stainless steel – small range & lead times are likely to be long)
Summary
Traditionally, corrosion resistance of linear motion products has been provided in the form of stainless steel. However, today, coatings such as Thin Dense Chromium can provide corrosion resistance to bearings without compromising on load capacities and incurring long lead times.