APPLICATION & DESIGN EXAMPLE -
THREE STAGE TELESCOPIC SYSTEM

A three stage system allows the carriage (shown in yellow) to pull all the way out telescopically. In the first design (top) the rails are on a narrower gauge than the two stage system and a wide table straddles the rails. Again each stage is cantilevered from the bearings.
This system requires 3 sets of combined roller bearings & rails (i.e. 12 bearings & 6 rails).
To make the system compact, the bearings can be welded directly to the web of the rails (as shown). The bearings on the carriage are shown welded to a mounting plate. The mounting plate then simply bolts to the structure.

A very large extension can be achieved with this arrangement and if the carriage is made longer, it can cantilever out too (bottom image). Suitable applications include machine storage and vehicle extensions.

This three stage arrangement can also be used vertically to form a mast. The bearings and rails can be varied in size between the stages - e.g. the fixed stage may have larger bearings & rails to carry the large cantilevered load and the subsequent stages might be smaller to keep the weight to a minimum. Forks can be added to make a forklift truck or a platform to make a goods lift.
For ultra heavy systems, see our
Jumbo
combined roller bearings.
Read our technical information on Combined Roller Bearings or view other application examples.

En Français? Voir notre catalogue ici.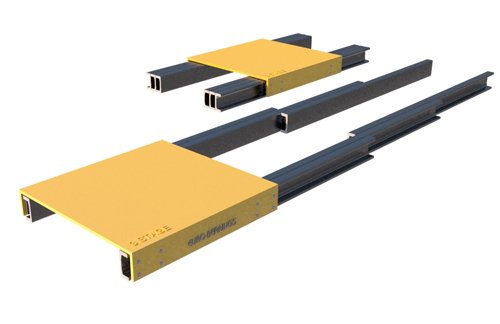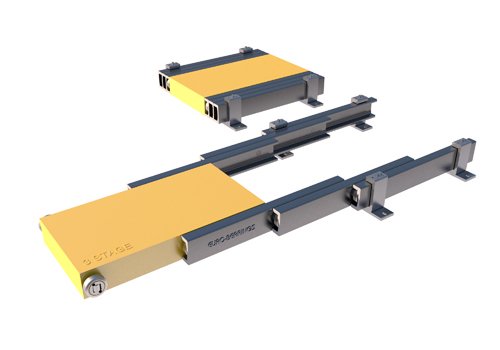 Related Products and Links