APPLICATION & DESIGN EXAMPLE -
HORIZONTAL CANTILEVERED SYSTEM with I section

This system uses an I beam to create a horizontal cantilevered system. The advantage of the I section is that the bearings can be used on both sides, consequently allowing it to extend out with only one pair of rails.
In its simplest form, you need just 2 rails & 8 bearings (4 on the static supports & 4 on the carriage). Further rails & bearings can be added to extend the system.

Again this system is ideal for making vehicle pull outs or for sliding things away.

The main advantage of Combined Roller Bearings over other track rolling systems is that the smaller axial rollers contact the web of the profiled rails. This helps to keep the system running parallel and consequently prevents the system from jamming.

The bearings can be supplied pre-welded to a mounting plate and then simply bolted onto the structure (as shown), or they can be welded directly to the structure for a more compact arrangement.

For ultra heavy systems, see our Jumbo combined roller bearings.
Read our technical information on Combined Roller Bearings or view other application examples.

En Français? Voir notre catalogue ici.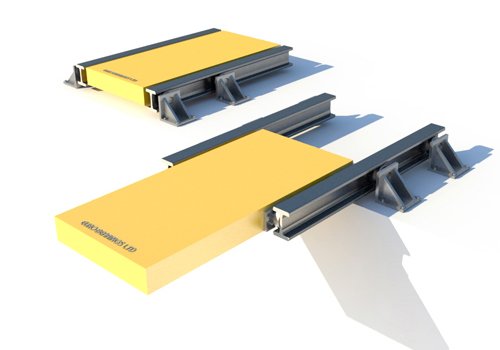 Related Products and Links