FREQUENTLY ASKED QUESTIONS - COMBINED ROLLER BEARINGS
1. How do we mount the bearings? The stub axle on the bearings is made from C22E which is a weldable steel. The best method is to drill a hole to locate the stub diameter marked 'd' in the drawings and to weld from behind. The 45º chamfer or weld gusset allows the weld to be kept flat if you need to use that area for rolling another bearing over. You do NOT have to disassemble the bearing to weld into position, just keep the torch or arc away from the hardened steel radial roller and axial roller.
2. How do you lubricate the bearing? All but the smallest size of the standard combined range have a threaded lube hole and hex-headed plug to allow the insertion of a grease nipple. All lube holes are M6 tapped. Remove the plug to allow for the insertion of a nipple. If the nipple cannot be left in place for operational reasons, re-insert the plug. Use a good bearing grease e.g. Shell Alvania 3 or Esso Beacon 3. Nipples are not supplied but the holes are standard metric threads. The standard bearings are pre-lubricated and can be run without any further lubrication. The adjustable types are not re-lubricable but are pre-lubricated for life.
3. Are the bearings sealed? All three ranges of bearings are sealed. The standard types (4.0xx) have ZRS seals which are a metal/rubber hybrid, the shim adjustable types are sealed mechanically using a labyrinth method and the eccentric adjustable type (4.4xx) are sealed with rubber seals. All methods are very effective and these bearings are in use in a variety of industrial environments.
4. Are the bearings and channel available in Stainless Steel? No the bearings are not available in stainless steel but we do offer a THIN DENSE CHROMIUM COATING to outer surfaces of the bearings and, if required, to all internal surfaces as well. In addition channels up to 3mts long can be treated in the same way. Stainless steel channels can be manufactured on request but minimum quantities apply.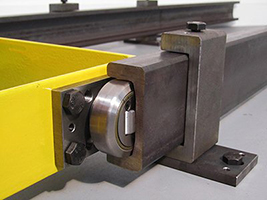 En Français? Voir notre catalogue ici.

Related Products and Links