CORROSION RESISTANT COATING
Thin Dense Chromium Plating (TDC)
Thin Dense Chromium plating can be applied to both the combined roller bearings & the steel rails. However, it is the bearings that are more frequently coated as, unlike the steel, they can not be painted or galvanised.

What is it?

A thin deposit of Chromium from 1 to 15 microns thick is deposited on all external surfaces. These meet ASTM adhesion and bend tests. Surface hardness shows no brittleness or micro-cracks when viewed at magnification x 500. Samples shall pass standard ASTM B-117 & B-287 Salt spray tests. A detailed brochure on this specific method is available on request. Click here to see more about this process.
What can be coated?

We can offer corrosion resistant coating on all of our standard range of Combined Roller Bearings & channels.

Furthermore we stock some of our channels in AISI 304L Stainless Steel. Please contact us for details.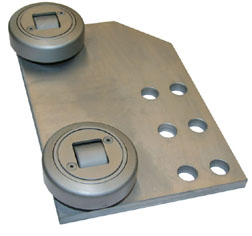 A special combined roller bearing & mounting plate assembly - thin dense chromium plated for use in a salt water environment.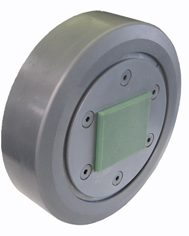 Jumbo combined roller bearing with thin dense chromium plating and oilamid rubbing block.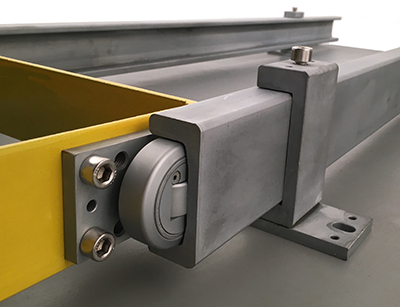 A complete system of Standard Combined Roller Bearings with Thin Dense Chromium Plating
Related Products and Links