STAINLESS STEEL PROFILES FOR COMBINED ROLLER BEARINGS
We can now offer the following profiles executed in 304L Stainless Steel. These are produced to order with a minimum batch of 500kg of any one type. However we may have stock availability so please enquire. For dimensions click on the appropriate channel number below.

As the lead times are 12+ weeks please do not consider using it unless you are sure you can wait for it because at this point in time it is in ingot form and nothing we can do will make it into channels any quicker! (This only applies to Stainless Steel versions - all the mild steel ones are usually on stock).

Channel References available (click part number to see relevant drawings):

2890 (Weight 10.65kg/m). Max length 6 metres.
2867 (Weight 14.81kg/m). Max length 6 metres.
2810 (Weight 21.11kg/m). Max length 6 metres.

Please Note: The bearings are not available in stainless steel but can be Thin Dense Chromium Plated. Furthermore, all sizes of the standard steel rails can be Thin Dense Chromium (TDC) plated, typcially up to a length of 2 or 3 metres (depending on weight). Lead times are usually 3 - 4 weeks. Please enquire.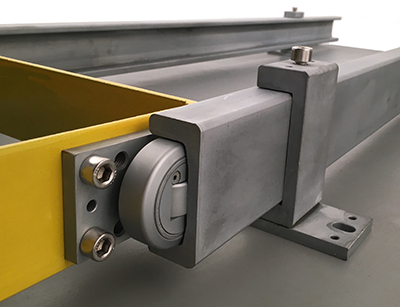 En Français? Voir notre catalogue ici.

Related Products and Links