WELDING COMBINED ROLLER BEARINGS TO PLATES OR FERROUS STRUCTURES
Combined roller bearings consist of a radial roller and an axial roller mounted on a mild steel hub. The hub material is C22E (1.1151). Click here for more information on the steel grade.
The unit does NOT have to be disassembled for welding but if preferred it can be. However heat from the weld should be kept to a minimum. If required disassembly instructions are available.

The hole into which the hub is to be located should be a clearance hole 50µm to 100µm bigger than dimension "d" on our drawings.
The material or plate to which the bearing hub is to be welded should be at least the thickness of dimension"H" minus "h" on our drawings.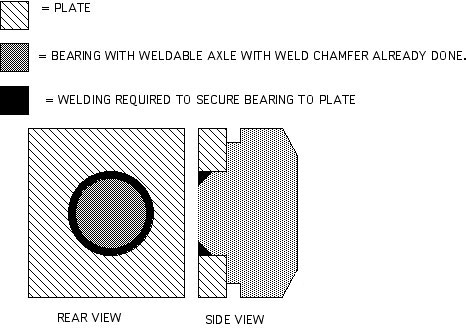 To Weld:

1. The hub should be fully inserted up to the flange.
2. MAKE SURE THAT THE AXIAL ROLLER IS ALIGNED FOR THE CORRECT DIRECTON OF TRAVEL!!!
3. Using normal mild steel welding techniques, fill the 45 degree weld fillet on the back of the hub.
4. Care should be taken that the structure or material to which these bearings
are welded is in itself intrinsically capable of supporting the loads carried by the bearings.
If we are supplying the bearing pre-welded to the mounting plate please see our orientation drawing. We can also manufacture custom mounting plates on request.
En Français? Voir notre catalogue ici.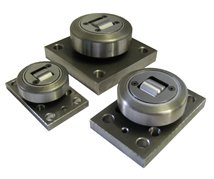 Combined roller bearings welded to standard mounting plates
Related Products and Links