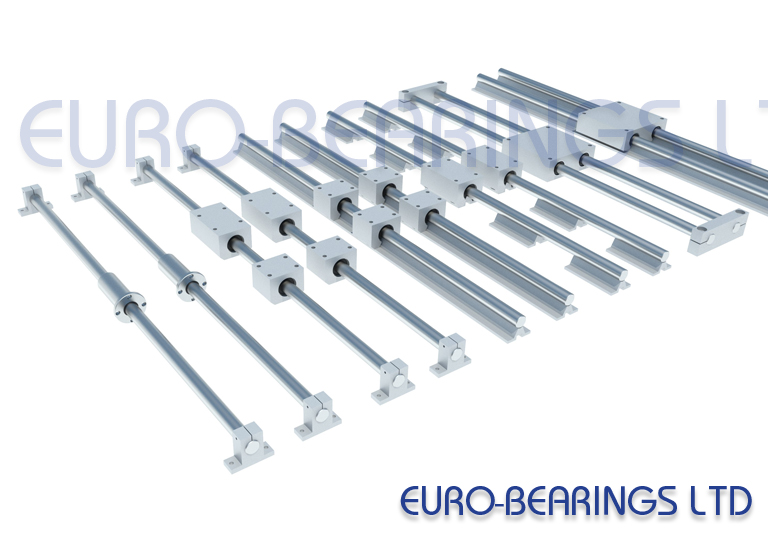 Round Shaft Linear Motion Systems
We supply a large range of components which can be used for assembling a linear motion system using hardened round shaft for a variety of configurations. Some examples are shown in the image above.
Our ball bushings range includes open and closed type bushings, tandem length versions and both square and circular flanged ball bushings. Many types are also available in stainless steel. Other types available include compact and super ball bushings- please see our website to view the complete range.
We supply the hardened & ground shaft (Cf53) and stainless shaft (X90CrMoV18) that these ball bushings should be run on. We can drill and tap the shafts, if required.
The shafts can be supported on end supports or fully supported on our rail supports. These components are all available in aluminium. Our end supports are also available in cast iron (WB55) and stainless steel (WB59) as well as aluminium (WB56 or WB57).
We supply both aluminium and cast iron housings, either as standard or tandem length versions. These are supplied with our standard ball bushings but can also be supplied with our stainless steel ball bushings (KB50 or KB53).
And we also offer both an open type complete system and closed type complete system which comprise of two shafts, one housing and two end supports. There are two different end supports available depending on whether they will be fixed down (with the carriage sliding) or if the housing will be fixed down. These systems can be supplied with stainless shafts and stainless bushings.