Combined roller bearings can be used in a huge variety of applications. In the simplest arrangement (4 bearings & 2 rails) they can be used to make a forklift mast (vertically), a telescopic slide (horizontally) or just to slide something from A to B.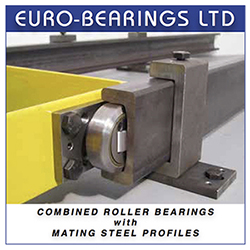 The main advantage of a combined roller bearing is the small axial roller that helps to keep the system running parallel and prevent it from jamming or crabbing. The combi bearings come complete with a weldable hub so they can be welded directly to your structure or, for ease of maintenance, they can be purchased pre-welded to a mounting plate. This mounting plate is simply bolted on with 4 bolts.
Used together with the mating steel channels (rails), the combined roller bearings offer a simple and cost effective way to make a heavy duty linear slide system. The smallest bearing diameter is 52mm, and the largest Jumbo bearing is 390mm. The rails are available in both C and H (or I) sections.
What Products are Available?
Standard Range
Precision Range
Jumbo Range
Precision Range: For heavy duty applications requiring high precision, the Precision Combined Roller Bearings offer a reduced clearance between the bearing & the rail and consequently minimise the play in the system. The rail is machined in the web and the bearing diameter is increased to match this, with a tolerance of 0.2mm – 0.4mm.Click on an image to visit the relevant webpage.
Jumbo Range: For ultra heavy duty applications, the Jumbo bearings can offer an affordable solution.
Corrosion Resistance: In some environments (e.g. Offshore) it can be beneficial to use a corrosion resistant system. The Thin Dense Chromium coating withstands salt spray and can considerably improve the operating life. We can offer all of the ranges with coating.
Please visit our website for full details. Datasheets & pdf catalogues are available to download.
Advantages

+ Very heavy load capacities. See Hertzian Pressure for system capability.

+ Side (axial) roller prevents crabbing. Channel (rail) is self supporting in many applications.

+ Easy to engineer, assemble and set up. Low maintenance.

+ Tolerant of dirty / dusty environments.

+ Bearing diameters from 52mm to 390mm.

Applications

– Access Equipment

– Handling Equipment, including forklift trucks & scissor lifts

– Palletising Machines

– Lifts for goods, personnel and wheelchairs

– Paying Out Systems

– Agricultural Machinery

– Primary Food Processing Equipment

– Furnace Loading Equipment

– Production Lines

– And lots more…
Why Euro-Bearings Ltd?
– Large UK-based stock of Combined Roller Bearings
– Over 30 years in the industry
– Always speak to Technical Sales
– Fast delivery
– Family business who value their customers
– Ability to offer custom plates or special diameter bearings