SATURN & CUP BALL UNITS:

Light Duty
Low Friction (µ approx 0.03)
Max speed: 1m/s
Temperature: -20ºC to 70ºC
Orientation: Ball up or Horizontal (or Ball down for Cup type)
Saturn Type:

| | |
| --- | --- |
| | This simple Saturn ball transfer unit requires very little installation depth so it can be used in confined spaces. We recommend only using the Saturn units with the ball upwards. If used inverted the load capacities are reduced by 50%. The Saturn ball units have no seals as standard. The larger sizes can be specified with felt seals. All sizes can be supplied with plastic (POM) balls. Two sizes are available with all components made from stainless steel: KU34-516 & KU34-532. |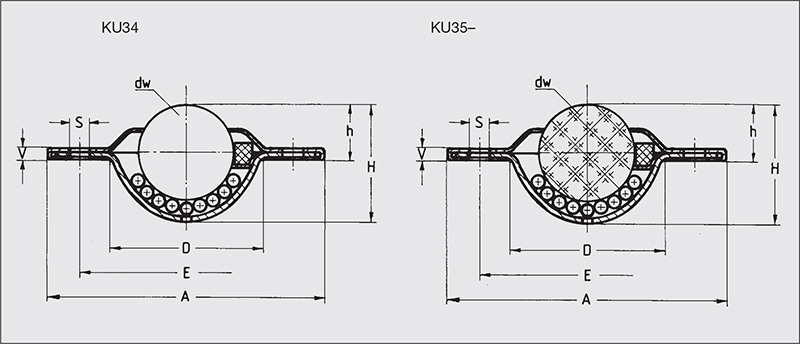 Cup Roller Type:
These cost effective and lightweight Ball Transfer Units are formed from zinc plated sheet steel material. The flange of the cup allows for easy assembly by inserting it into a loosely toleranced hole. Often futher securing is not necessary.
All ball units are equipped with a felt seal, apart from the smallest size.

Due to the special design of the shell, the load rating of the KU30 type remains the same in every position, even in the ball-down orientation.

The KU31 type with a plastic (POM) ball should not be used with the ball orientated down.

It is also available with all components manufactured from stainless steel.
Part number KU30-5..

Tabbed clips and tolerance rings are available for fixing the ball units.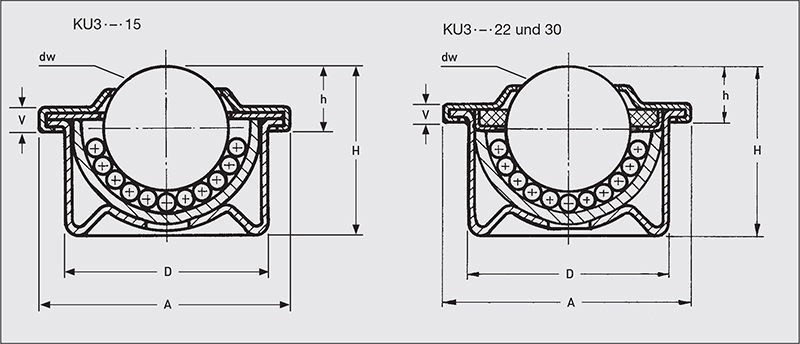 | | | | | | | | | | | | | |
| --- | --- | --- | --- | --- | --- | --- | --- | --- | --- | --- | --- | --- |
| | Zinc Plated with Stainless Steel Balls | Zinc Plated with Plastic Balls | | | | | | | | | | |
| | | | | | | | | | | | | |
| | | | | | | | | | | | | |
| | | | | | | | | | | | | |
| | | | | | | | | | | | | |
| | | | | | | | | | | | | |
| | | | | | | | | | | | | |
| | | | | | | | | | | | | |
| | | | | | | | | | | | | |
| | | | | | | | | | | | | |
| | | | | | | | | | | | | |
| | | | | | | | | | | | | |
| | | | | | | | | | | | | |