TORQUE RESISTANT BALL BUSHINGS:
PDF Catalogue of Linear Bearings

Our Torque Resistant Ball Bushings are a high precision linear motion system. The bushing as well as the shaft is equipped with ball guide grooves with special gothic profiles. This 4-point contact design offers a considerable high load capacity and a high rigidity through slight preloading. High torque values and shock resistance are ensured with this particularly compact space-saving design. Through optimized load carrying tracks and the polyamide ball retainer, a very smooth running is achieved. Use with Torque Resistant Spline Shafts.

For lubrication the ball bushing is equipped with a lubrication hole. To retain the lubricant inside the bushing the seals at both ends are adapted to the profiled ball guide grooves. Sizes up to 25mm are also available in stainless steel - reference SSP4-5..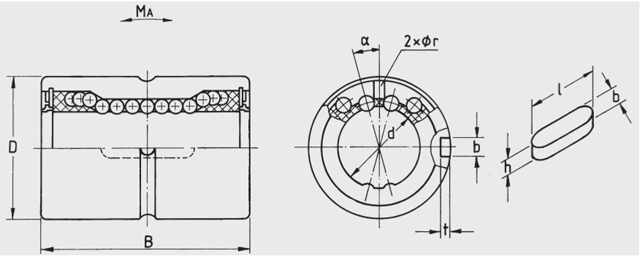 Part Number

d

D

B

b

t

h

l

r

alpha

Torque
Ct (Nm)
Torque C0t (Nm)

Load C (kN)

Load C0(kN)

MA
(Nm)

MB (Nm) (see below)

Weight (kg)

SSP4-304

4

10

16

2.0

1.2

2.0

6

-

60

0.7

1.0

860

1220

2.0

10

0.01

SSP4-306

6

14

25

2.5

1.2

2.5

10.5

1.0

60

1.5

2.4

1.22

2.20

5.1

40

0.02

SSP4-308

8

16

25

2.5

1.2

2.5

10.5

1.5

60

2.1

3.7

1.45

2.87

7.4

50

0.02

SSP4-310

10

21

33

3.0

1.5

3.0

13

1.5

60

4.4

8.2

2.73

5.07

18.0

116

0.06

SSP4-314

13

24

36

3.0

1.5

3.0

15

1.5

25

21

40

2.7

4.9

13.7

109

0.07

SSP4-316

16

31

50

3.5

2.0

3.5

17.5

2.0

25

60

110

6.15

11.2

46

299

0.15

SSP4-320

18.2

32

60

4.0

2.5

4.0

26

2.0

16

85

136

8

11.5

64

500

0.20

SSP4A320

20

35

63

4.0

2.5

4.0

29

2.0

16

105

194

8.9

16.3

110

560

0.22

SSP4-325

23

37

70

5.0

3.0

5.0

33

3.0

16

165

244

12.6

16.4

106

830

0.22

SSP4A325

25

42

71

4.0

2.5

4.0

36

3.0

16

189

346

12.8

23.4

171

1029

0.33

SSP4-330

28

45

80

7.0

4.0

7.0

41

3.0

16

295

420

19

23.7

185

1470

0.35

SSP4A330

30

47

80

4.0

2.5

4.0

42

3.0

16

307

439

18.6

23.2

181

1470

0.36

SSP4-340

37.4

60

100

10.0

4.5

8.0

55

4.0

16

650

900

31.4

38.3

365

2940

0.81

SSP4A340

40

64

100

6.0

3.5

6.0

52

4.0

16

674

934

30.8

37.5

358

2940

0.95

SSP4-350

47

75

112

15.0

5.0

10.0

60

4.0

16

1420

3240

47

75.7

710

4400

1.50

SSP4A350

50

80

125

8.0

4.0

7.0

58

4.0

16

1291

2955

40.3

64.9

690

4084

1.90

SSP4-360

56.5

90

127

18.0

6.0

11.0

68

4.0

16

2100

4800

58

127

1300

8800

2.50

SSP4A360

60

90

140

12.0

5.0

8.0

67

4.0

16

1577

2629

47.7

79.5

881

5473

2.30