ALUMINIUM LINEAR BEARING HOUSINGS (CLOSED TYPE):
PDF Catalogue of Linear Bearings
These lightweight but heavy duty aluminium sets offer high accuracy. They consist of a corrosion resistant, highly rigid aluminium housing and a double sealed standard ball bushing. The units can be attached to any surface to offer support in any direction. The highly rigid aluminium housing and the special lightweight design enables high speeds and accelerations.
For operating temperatures of more than 80ºC, the aluminium housings can be fitted with unsealed NB00 ball bushings and with all parts made from steel.
Ordering reference number: AE35-0..

For applications where corrosion resistance, a stainless steel ball bushing (see KB50 ball bushing) can be used instead.
Ordering reference number AE35-5.. (shaft diameter).

Also available as a slotted / adjustable type. Ordering reference AE36-...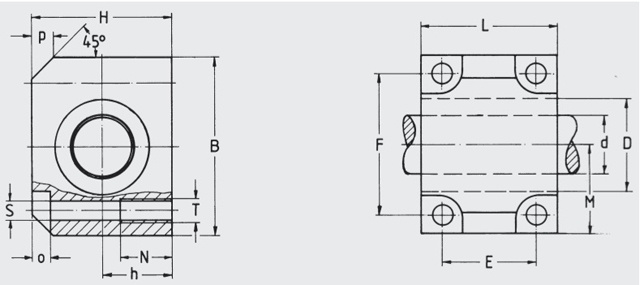 | | | | | | | | | | | | | | | | | | | |
| --- | --- | --- | --- | --- | --- | --- | --- | --- | --- | --- | --- | --- | --- | --- | --- | --- | --- | --- |
| Part Number | d | B | H | h | L | D | E | F | M | S | T | N | O | P | Load C (N) | Load C0 (N) | Weight (kg) | .stp File |
| AE35-212 | 12 | 42 | 35 | 18 | 39 | 22 | 23 | 32 | 21 | 4.3 | M5 | 11 | 4 | 5 | 570 | 800 | 0.14 | |
| AE35-216 | 16 | 52 | 42 | 22 | 43 | 26 | 26 | 40 | 26 | 5.3 | M6 | 13 | 5 | 6 | 800 | 940 | 0.20 | |
| AE35-220 | 20 | 60 | 50 | 25 | 54 | 32 | 32 | 45 | 30 | 6.6 | M8 | 18 | 6 | 7 | 900 | 1400 | 0.38 | |
| AE35-225 | 25 | 76 | 60 | 30 | 67 | 40 | 40 | 60 | 38 | 8.4 | M10 | 22 | 8 | 9 | 1100 | 1700 | 0.73 | |
| AE35-230 | 30 | 86 | 70 | 35 | 79 | 47 | 45 | 68 | 43 | 8.4 | M10 | 22 | 8 | 10 | 1700 | 3000 | 1.12 | |
| AE35-240 | 40 | 108 | 90 | 45 | 91 | 62 | 58 | 86 | 54 | 10.5 | M12 | 26 | 10 | 12 | 2300 | 4700 | 2.30 | |
| AE35-250 | 50 | 130 | 105 | 50 | 113 | 75 | 50 | 108 | 65 | 13.5 | M16 | 34 | 12 | 13 | 4100 | 8300 | 3.80 | |