ALUMINIUM TANDEM LINEAR BEARING HOUSINGS:
PDF Catalogue of Linear Bearings
These units are manufactured from aluminium alloy and incorporate two standard ball bushings. Using these Aluminium Tandem Sets eliminates the need to perfectly align two single linear bearing housings.
The standard ball bushings used in the TE85-2.. series are sealed (UU). Consequently the maximum continuous operating temperature is 80ºC. For higher temperatures (>80ºC) the aluminimum housings can be fitted with unsealed ball bushings. Ordering reference TE85-0...

If corrosion resistance is required these sets can be supplied with KB50 ball bushings. The ordering reference number is TE85-5..

This product is also available as a slotted / adjustable type. The mounting holes (E,F,T) are then the same as for TE33. Ordering reference TE32-...

••Lubrication hole provided on request.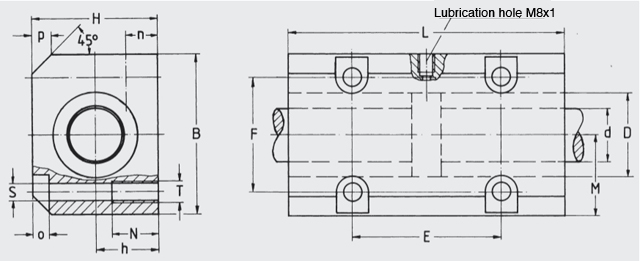 | | | | | | | | | | | | | | | | | | | |
| --- | --- | --- | --- | --- | --- | --- | --- | --- | --- | --- | --- | --- | --- | --- | --- | --- | --- | --- |
| Part Number | d | B | H | h | L | D | E | F | M | S | T | N | n | o | p | Load C=C0(N) | Weight (kg) | .stp File |
| TE85-212 | 12 | 42 | 35 | 18 | 76 | 22 | 40 | 30 | 21 | 5.3 | M6 | 13 | 10 | 4 | 5 | 1100 | 0.32 | |
| TE85-216 | 16 | 52 | 42 | 22 | 84 | 26 | 45 | 36 | 26 | 5.3 | M6 | 13 | 12 | 5 | 6 | 1300 | 0.48 | |
| TE85-220 | 20 | 60 | 50 | 25 | 104 | 32 | 55 | 45 | 30 | 6.6 | M8 | 18 | 13 | 6 | 7 | 1750 | 0.84 | |
| TE85-225 | 25 | 76 | 60 | 30 | 130 | 40 | 70 | 54 | 38 | 8.4 | M10 | 22 | 15 | 8 | 9 | 1950 | 1.62 | |
| TE85-230 | 30 | 86 | 70 | 35 | 152 | 47 | 85 | 62 | 43 | 10.5 | M12 | 26 | 16 | 8 | 10 | 3100 | 2.46 | |
| TE85-240 | 40 | 108 | 90 | 45 | 176 | 62 | 100 | 80 | 54 | 13.5 | M16 | 34 | 20 | 10 | 12 | 4300 | 4.79 | |
| TE85-250 | 50 | 130 | 105 | 50 | 224 | 75 | 125 | 100 | 65 | 13.5 | M16 | 34 | 20 | 12 | 13 | 7600 | 8.06 | |