LIPPED WIPER SEALS WITH INTEGRAL RETAINING RING:
PDF Catalogue of Linear Bearings
These seal rings are made from rubber inserted into a metal casing. This special design ensures the steel locates perfectly in the housing bore without any other retaining facility.
A number of factors have to be considered when selecting supplementary seals, for instance, the arrangement, design or available space. This V-section seal consists of two wipers and performs two purposes. The inner wiper retains the lubricant in the bushing and the outer wiper protects the ball bushing against the ingress of particles.

Bellows type covers should be fitted over the shafts if the operating environment is very dirty / dusty.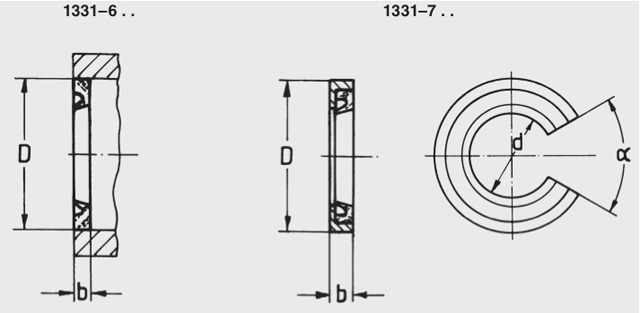 Part Number
d
D
b
alpha
Closed
Open
1331-612

12

22

3

1331-712

12

22

5

68

1331-616

16

26

3

1331-716

16

26

5

1331-620

20

32

4

1331-720

20

32

6

56

1331-625

25

40

4

1331-725

25

40

6

58

1331-630

30

47

5

1331-730

30

47

7

58

1331-640

40

62

5

1331-740

40

62

7

57

1331-650

50

75

6

1331-750

50

75

11

55