OPEN BALL BUSHINGS:
PDF Catalogue of Linear Bearings
NB Open Ball Bushings in European Metric sizes.
NB Open Ball Bushings are available with a steel cage as standard which is held in position by solid end plates. Order reference NB30-... (no seals) or NB32-... (with 2 seals).

For extra smooth running NB open ball bushings are available equipped with a plastic cage - NB3.-3..

They also have a retention hole (dimple) into which a locating pin can be inserted to secure the bush into a housing.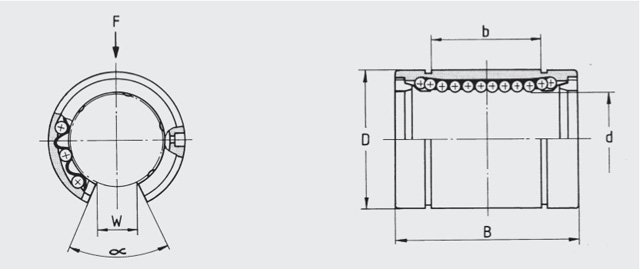 Part Number
Part Number

d

D

B

b

W

a

No of

Races

Load - DYN
C (N)

Load - STAT
C0 (N)
Weight
kg
.stp File
No SEALS
2 SEALS
NB30-012
NB32-012

12

22

32

20

7.5

78

3

570

800

0.03

NB30-016
NB32-016

16

26

36

22

10

78

3

800

940

0.05

NB30-020
NB32-020

20

32

45

28

10

60

4

900

1450

0.08

NB30-025
NB32-025

25

40

58

40

12.5

60

5

1100

1700

0.19

NB30-030
NB32-030

30

47

68

48

12.5

50

5

1700

3000

0.30

NB30-040
NB32-040

40

62

80

56

16.8

50

5

2300

4700

0.60

NB30-050
NB32-050

50

75

100

72

21

50

5

4100

8300

0.97

NB30-060
NB32-060

60

90

125

95

27.2

54

5

4800

10200

1.90

NB30-080
NB32-080

80

120

165

125

36.3

54

5

7500

16300

4.38