BALL SCREW SPLINE SPBR (TORQUE RESISTANT):
PDF Catalogue of Linear Bearings

The Ball Screw Spline shaft has a screw thread and a spline groove. The SPBR module consists of a Rotary Ball Screw nut and a Rotary Ball Spline nut.

The combination of the ball screw and ball spline on one shaft provides a system which allows independent linear and rotary motion, as well as spiral motion when the linear & rotary motions are combined.

Typical applications are SCARA robots, assembly machines, loaders, tool changers etc

For torque resistant applications where only linear motion is required, please see SPBF type.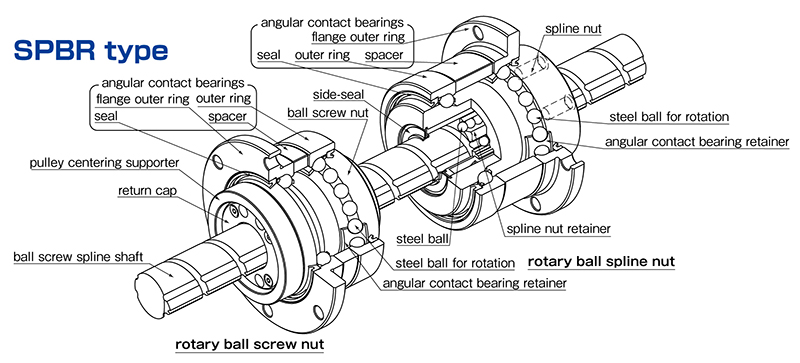 Rotary Ball Screw Nut:
a) Dimensions (mm)
Part Number

D1


(h7)

D2


(H7)

L1
P1
θ
S1
f1

Te

D3


(0 -7µm)

D4
H1
B1
B2
P2
(PCD)
d1

SPBR16

40
(+0 -25µm)

32
(+25 0µm)

43.5

25

40º

M4

12

2

52

68

5

27.5
9
60
4.5

SPBR20

50
(+0 -25µm)
39
(+25 0µm)

54

31

40º

M5

16

2

62

78

6

34
11
70
4.5

SPBR25

58
(+0 -30µm)

47
(+25 0µm)

65

38

40º

M6

19

3

72

92

8

43
12.5
81
5.5
| | | | |
| --- | --- | --- | --- |
| Part Number | DS | Lead | Dr |
| SPBR16 | 16 | 16 | 13.4 |
| SPBR20 | 20 | 20 | 17.2 |
| SPBR25 | 25 | 25 | 21.9 |
b) Loads
Ball Screw
Angular Contact Bearing
Moment of Inertia
Mass
Ball Screw Nut
Load Ratings
(kN)

Load Ratings
(kN)

Nut

Screw Shaft

Nut

Shaft

(Based on Dm.N)

Part Number

Ca

C0a

Car

C0ar

Max rpm
(kg.cm2)
(kg.cm2/mm)

(kg)

(kg/m)

Max rpm

SPBR16

4.62

8.59

11.1

22.2

4000

0.60
4.43x10-4

0.45

1.47

4,179

SPBR20

5.77

12.2

14.4

30.5

3200

1.75
1.12x10-3

0.76

2.33

3,414

SPBR25

8.62

19.2

18.2

39.8

2800

3.86
2.74x10-3

1.26

3.65

2,692
Rotary Ball Spline Nut:
a) Dimensions (mm)
Part Number

D5


(h7)

L2

P3


(PCD)

S2
f2
D6
D7
H2
B3

B4
P4
d2

SPBR16

39.5
(+0 -25µm)

50

32

M5

8

52
(+0 -7µm)

68

5

37

10

60

4.5

SPBR20

46.5
(+0 -25µm)

63

36

M5

8

56
(+0 -7µm)

72

6

48

12

64

4.5

SPBR25

53
(+0 -30µm)

71

45

M6

8

62
(+0 -7µm)

78

6

55

13

70

4.5
b) Loads
Ball Spline
Angular Contact Bearings
Torque Rating (Nm)
Load Rating (kN)
Load Rating (kN)
(kg.cm2)
CT
C0T

C

C0
CR
C0R
Max rpm
Max Static Moment (Nm)
Moment of Inertia
Weight
(kg)
60
110
6.12
11.2
13.0
12.8
4,000
46
0.63
0.51
105
194
8.9
16.3
17.4
17.2
3,600
110
1.10
0.70
189
346
12.8
23.4
22.1
22.5
3,200
171
2.14
0.91
Motion Pattern: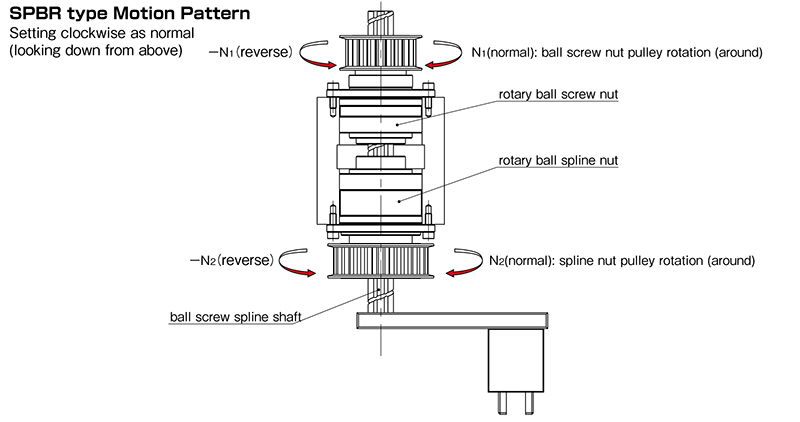 Motion

Input

Output

Spline nut

Direction

Travel distance
(linear)

Revolution
(rotional)

N1
(normal)

0

1

L= N1.R
(up)

-N1
(reverse)

0

2

L= -N1.R
(down)

1

0

N2
(normal)

-N1= -N2
(reverse / reverse)

2

0

-N2
(reverse)

0

1

L= N2.R
(down)

N2
(normal)

0

2

L= -N2.R
(up)

-N2
(reverse)

N1
(normal)

-N1
(reverse)

N2
(normal)

1

L=(N2-(±N1)).R

If N2-(±N1)>0
(down)

N2
(normal)

4

If N2-(±N1)<0
(up)

-N2
(reverse)

3

L=(-N2-(±N1)).R

If -N2-(±N1)>0
(down)

-N2
(reverse)

2

If -N2-(±N1)<0
(up)

L = travel distance (mm), R = ball screw lead
N1 = number of ball screw nut rotations, N2= number of ball spline nut rotations