SQUARE FLANGED BALL BUSHINGS:
PDF Catalogue of Linear Bearings
These square flanged ball bushings are made to the European design and have the same characteristics and loadings as our popular range of round flanged ball bushings. The flange provides a simple but robust mounting system. The ball bushing has 2 integral shaft wiping seals.

Use with our hardened and ground round shaft. Click here for shafts.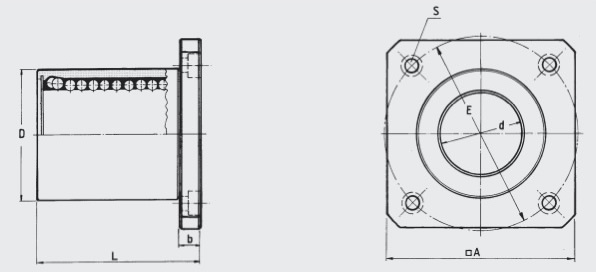 Part Number

d

D

L

b

A

E

S

Load
C (N)

Load
C0 (N)

Weight (kg)

LMEK08UU

8

16

25

5

25

24

M3

270

410

0.03

LMEK12UU

12

22

32

6

32

32

M4

520

790

0.07

LMEK16UU

16

26

36

6

35

36

M4

590

910

0.09

LMEK20UU

20

32

45

8

42

43

M5

880

1400

0.15

LMEK25UU

25

40

58

8

50

51

M5

1000

1600

0.30

LMEK30UU

30

47

68

10

60

62

M6

1600

2800

0.46

LMEK40UU

40

62

80

13

75

80

M8

2200

4100

0.99