TRACK GUIDANCE SYSTEM - BEARINGS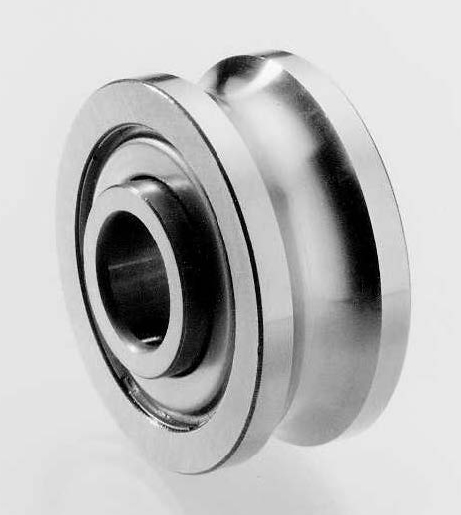 What is a Track Bearing?
These track bearings run on either hardened and ground shaft or stainless steel shaft and can be contained within a carriage to create a linear motion system used in conjunction with guide rails. The bearings can be mounted on concentric or eccentric spigots (see below) and are available in both mild and stainless steel. In addition to being replacement parts, they can be used to form a trolley which can run in either horizontal or vertical axes.
Track bearings can be used to form a complete linear motion guidance system when combined with a carriage & rail. They can also run directly onto a shaft in customers' own carriages or on spigots. LR references are for bearings, B & E references are for concentric & eccentric spigots for the closed system and G references are the concentric spigots for the open system.
The _ in the part number should be replaced by 0 for steel bearings / spigots and 5 for stainless steel bearings / spigots.
Bearings:
| | |
| --- | --- |
| Drawing for LR25, LR36, LR52 and LR64 Track Bearings | Drawing for LR27 and LR80 Track Bearings |
| | |
| | | | | | | | | | |
| --- | --- | --- | --- | --- | --- | --- | --- | --- | --- |
| Part Number | d | D | B | A | a | s | e | C (kN) | C0 (kN) |
| LR25-_05 | 5 | 17 | 7 | 8.5 | 25 | 5 | 6.9 | 1.20 | 0.80 |
| LR27-_05 | 5 | 17 | 7 | 8 | 27 | 6 | | 1.27 | 0.89 |
| LR36-_08 | 8 | 24 | 11 | 12.5 | 37 | 8 | 11.5 | 3.30 | 2.10 |
| LR52-_12 | 12 | 35 | 15.9 | 15.9 | 51.3 | 10 | | 8.60 | 5.15 |
| LR64-_15 | 15 | 47 | 19 | 19 | 63.3 | 10 | | 14.0 | 7.70 |
| LR80-_20 | 20 | 52 | 20.6 | 22.6 | 79 | 16 | 27 | 15.6 | 9.10 |
Spigots:
Concentric Spigot
G..- and B..-

Eccentric Spigot
E..-
| | | | | | | | | | | |
| --- | --- | --- | --- | --- | --- | --- | --- | --- | --- | --- |
| Part Number | Type | d | D | B | A | a | s | e | SW | To suit carriage |
| B25-_M04 | Concentric | 5 | 9 | 17 | 14.5 | 7 | M4 | | 3 | LW (closed) |
| B36-_M06 | Concentric | 8 | 12 | 24.5 | 22 | 10.5 | M6 | | 4 | LW (closed) |
| B54-_M10 | Concentric | 12 | 20 | 38 | 32 | 17 | M10 | | 6 | LW (closed) |
| E25-_M04 | Eccentric | 5 | 9 | 19 | 16.5 | 9 | M4 x 5 | 4h6 | 3 | LW (closed) |
| E36-_M06 | Eccentric | 8 | 12 | 29 | 26.5 | 15 | M6 x 8 | 6h6 | 4 | LW (closed) |
| E54-_M10 | Eccentric | 12 | 20 | 43.5 | 37.5 | 22.5 | M10 x 12 | 10h6 | 6 | LW (closed) |
| G25-_M24 | Concentric | 5 | 9 | 20 | 17.5 | 4.5 | M4 | | 3 | OW (open) |
| G36-_M26 | Concentric | 8 | 12 | 29 | 26.5 | 8.5 | M6 | | 4 | OW (open) |
| G52-_M10 | Concentric | 12 | 20 | 42 | 36 | 14 | M10 | | 6 | OW (open) |
| G64-_M10 | Concentric | 15 | 20 | 50 | 44 | 19.6 | M10 | | 6 | OW (open) |