FLANGED COMBINED LINEAR AND RADIAL BALL BUSHINGS:
PDF Catalogue of Linear Bearings

These Flanged Linear and Radial Ball Bushings perform unlimited linear and rotary motion. Their cost-effective design saves the use of additional housing components, making the design of mating parts and units easier, cheaper and more compact.


There are no circlip grooves on RK20.

These bushes are also available without flanges.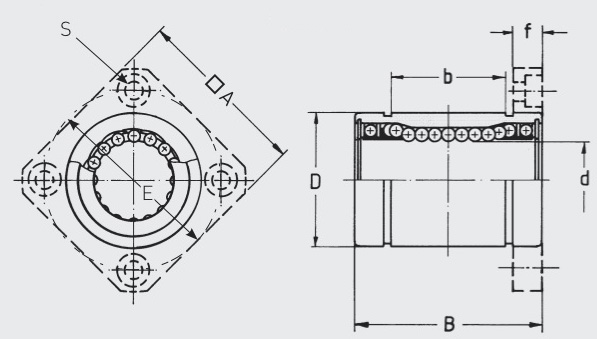 | | | | | | | | | | | | | |
| --- | --- | --- | --- | --- | --- | --- | --- | --- | --- | --- | --- | --- |
| Part Number | d | D | B | b | A | E | f | S | Load C (N) | Load C0 (N) | Max rpm | Weight (kg) |
| RK20-006 | 6 | 12 | 19 | 11 | 22 | 20 | 5 | 3.5 | 78 | 176 | 300 | 0.01 |
| RK20-008 | 8 | 15 | 24 | 15 | 25 | 24 | 5 | 3.5 | 137 | 314 | 300 | 0.015 |
| RK20-012 | 12 | 21 | 30 | 20 | 30 | 32 | 6 | 4.5 | 274 | 588 | 300 | 0.04 |
| RK20-016 | 16 | 28 | 37 | 23 | 37 | 38 | 6 | 4.5 | 451 | 882 | 250 | 0.065 |
| RK20-020 | 20 | 32 | 42 | 27 | 42 | 43 | 8 | 5.5 | 647 | 1180 | 250 | 0.11 |
| RK20-025 | 25 | 40 | 59 | 37 | 50 | 51 | 8 | 5.5 | 882 | 1860 | 250 | 0.21 |
| RK20-030 | 30 | 45 | 64 | 40.5 | 58 | 60 | 10 | 6.6 | 1180 | 2650 | 200 | 0.29 |