ALUMINIUM LINEAR BEARING HOUSINGS (OPEN TYPE):
PDF Catalogue of Linear Bearings
These Open Type Aluminium Sets should be mounted using four bolts to achieve the maximum load capacity and the best rigidity. The AE37-2.. housings are fitted with an open ball bushing with seals at both ends (UU).
For operating temperatures of more than 80ºC the housings are available fitted with unsealed NB30 ball bushings which are manufactured entirely from steel . Ordering reference number is AE37-0..

For applications where corrosion resistance is required the housings are available equipped with stainless steel linear bearings (KB53 ball bushings). Ordering reference number AE37-5.. (shaft diameter).

Also available as a slotted / adjustable type. Ordering reference AE38-...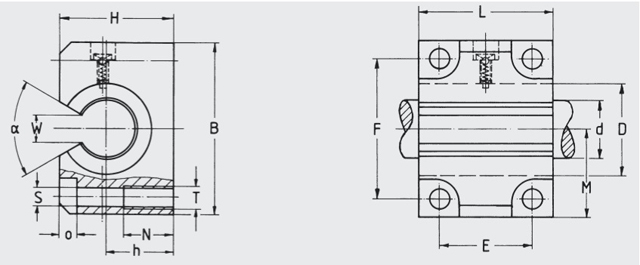 | | | | | | | | | | | | | | | | | | | | |
| --- | --- | --- | --- | --- | --- | --- | --- | --- | --- | --- | --- | --- | --- | --- | --- | --- | --- | --- | --- |
| Part Number | d | B | H | h | L | D | E | F | M | S | T | N | O | W | Alpha | Load C (N) | Load C0 (N) | Weight (kg) | .stp File |
| AE37-212 | 12 | 42 | 28 | 18 | 39 | 22 | 23 | 32 | 21 | 4.3 | M5 | 11 | 4 | 7.5 | 78 | 570 | 800 | 0.10 | |
| AE37-216 | 16 | 52 | 35 | 22 | 43 | 26 | 26 | 40 | 26 | 5.3 | M6 | 13 | 5 | 10.0 | 78 | 800 | 940 | 0.17 | |
| AE37-220 | 20 | 60 | 42 | 25 | 54 | 32 | 32 | 45 | 30 | 6.6 | M8 | 18 | 6 | 10.0 | 60 | 900 | 1400 | 0.28 | |
| AE37-225 | 25 | 76 | 51 | 30 | 67 | 40 | 40 | 60 | 38 | 8.4 | M10 | 22 | 8 | 12.5 | 60 | 1100 | 1700 | 0.60 | |
| AE37-230 | 30 | 86 | 60 | 35 | 79 | 47 | 45 | 68 | 43 | 8.4 | M10 | 22 | 8 | 12.5 | 50 | 1700 | 3000 | 0.90 | |
| AE37-240 | 40 | 108 | 77 | 45 | 91 | 62 | 58 | 86 | 54 | 10.5 | M12 | 26 | 10 | 16.8 | 50 | 2300 | 4700 | 1.70 | |
| AE37-250 | 50 | 130 | 88 | 50 | 113 | 75 | 50 | 108 | 65 | 13.5 | M16 | 34 | 12 | 21.0 | 50 | 4100 | 8300 | 2.80 | |