OPEN SIDED ALUMINIUM HOUSINGS FOR LINEAR BEARINGS:
PDF Catalogue of Linear Bearings
When the direction of the load is acting towards the open side of an Open Type Ball Bushing the load capacity is severely reduced. These Open Sided Linear Sets have been developed to overcome this disadvantage and to permit selective circumferential positioning as well as high rigidity of the open type ball bushing assembly.
The housings are equipped with Standard Ball Bushings with two seals that provide high precision and a minimum radial clearance. The bushings are secured in the housing by a locating screw. NB. Loads are assumed to be acting vertically.

When exceeding operating temperatures of 80ºC unsealed ball bushings (NB30-) manufactured entirely from steel are available. Ordering reference number LE71-0.. (shaft diameter) instead of LE71-2..

If corrosion resistance is required these units can be supplied with KB53 ball bushings. Ordering reference number LE71-5.. (shaft diameter)

Also available as a slotted / adjustable type - ordering reference LE72-...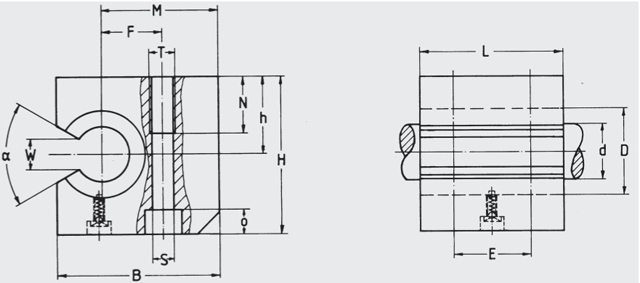 | | | | | | | | | | | | | | | | | | | | |
| --- | --- | --- | --- | --- | --- | --- | --- | --- | --- | --- | --- | --- | --- | --- | --- | --- | --- | --- | --- |
| Part Number | d | B | H | h | L | D | E | F | M | S | T | N | O | W | Alpha | Load C (N) | Load C0 (N) | Weight (kg) | .stp File |
| LE71-220 | 20 | 60 | 60 | 30 | 54 | 32 | 30 | 22 | 43 | 8.4 | M10 | 22 | 9 | 17 | 60 | 900 | 1400 | 0.40 | |
| LE71-225 | 25 | 75 | 72 | 35 | 67 | 40 | 36 | 28 | 54 | 10.5 | M12 | 26 | 11 | 21 | 60 | 1100 | 1700 | 0.75 | |
| LE71-230 | 30 | 86 | 82 | 40 | 79 | 47 | 42 | 34 | 61 | 13.5 | M16 | 34 | 13 | 21 | 50 | 1700 | 3000 | 1.15 | |
| LE71-240 | 40 | 110 | 100 | 45 | 91 | 62 | 48 | 43 | 78 | 16.0 | M20 | 43 | 14 | 27 | 50 | 2300 | 4700 | 2.00 | |
| LE71-250 | 50 | 127 | 115 | 50 | 113 | 75 | 62 | 50 | 89 | 17.5 | M20 | 43 | 17 | 33 | 50 | 4100 | 8300 | 3.50 | |