FLANGED SHAFT END SUPPORT BLOCKS:
PDF Catalogue of Linear Bearings
These cast iron flanged support blocks are specially developed for securing the shaft at right angles to the mounting surface. They are manufactured from spheroidal graphite cast iron and are for use with the Flanged Linear Sets.


They also ensure easy alignment on the mounting surface.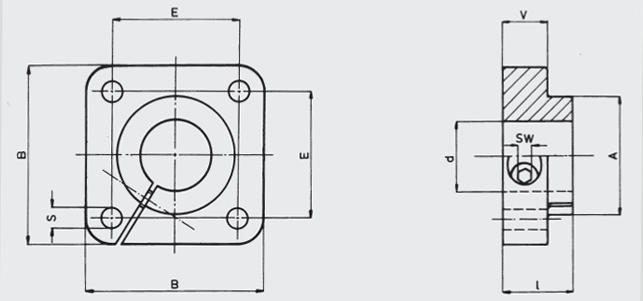 | | | | | | | | | | |
| --- | --- | --- | --- | --- | --- | --- | --- | --- | --- |
| Part Number | d | B | I | A | E | S | V | SW | .stp File |
| FH56-012 | 12 | 42 | 20 | 23 | 30 | 5.5 | 12 | 4 | |
| FH56-016 | 16 | 50 | 20 | 27 | 35 | 5.5 | 12 | 4 | |
| FH56-020 | 20 | 54 | 23 | 33 | 38 | 6.6 | 14 | 5 | |
| FH56-025 | 25 | 60 | 25 | 42 | 42 | 6.6 | 16 | 5 | |
| FH56-030 | 30 | 76 | 30 | 49 | 54 | 9 | 19 | 6 | |
| FH56-040 | 40 | 96 | 40 | 65 | 68 | 11 | 26 | 8 | |
| FH56-050 | 50 | 106 | 50 | 75 | 75 | 11 | 36 | 8 | |