STAINLESS STEEL COMPACT BALL BUSHINGS:
PDF Catalogue of Linear Bearings
These stainless steel compact ball bushings offer a fully re-circulating linear bearing in minimum space.

For housings to suit see AG27- series and use with X90CrMoV18 stainless steel hardened and ground linear bearing shafts. Suitable shaft end supports include aluminium WB58- and stainless steel WB59-.

The bush is made from 1.4034 and the balls from 1.3541 (DIN steel numbers).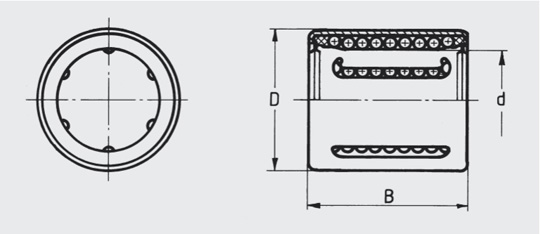 | | | | | | | | | |
| --- | --- | --- | --- | --- | --- | --- | --- | --- |
| Part Number | d | D | B | No of Ball Races | Load C (N) | Load Co (N) | Weight (kg) | .stp File |
| LBBRn206 | 6 | 12 | 22 | 4 | 400 | 240 | 0.007 | |
| LBBRn208 | 8 | 15 | 24 | 4 | 440 | 280 | 0.012 | |
| LBBRn210 | 10 | 17 | 26 | 4 | 500 | 370 | 0.015 | |
| LBBRn212 | 12 | 19 | 28 | 5 | 620 | 510 | 0.019 | |
| LBBRn214 | 14 | 21 | 28 | 5 | 710 | 530 | 0.021 | |
| LBBRn216 | 16 | 24 | 30 | 5 | 800 | 630 | 0.028 | |
| LBBRn220 | 20 | 28 | 30 | 6 | 950 | 800 | 0.033 | |
| LBBRn225 | 25 | 35 | 40 | 6 | 1990 | 1560 | 0.066 | |
| LBBRn230 | 30 | 40 | 50 | 7 | 2900 | 2700 | 0.095 | |
| LBBRn240 | 40 | 52 | 60 | 8 | 5100 | 4500 | 0.182 | |
| LBBRn250 | 50 | 62 | 70 | 9 | 6950 | 6300 | 0.252 | |