MINIATURE TRACK RANGE - STANDARD WIDTH CARRIAGES:
This is a linear rail system which provides high precision and low friction movement in a compact design. This page gives information about the standard miniature carriages. There are two types of rail for the standard carriages - MMO & MMU. Wide miniature carriages are also available.

All parts are corrosion resistant.
Please refer to the table of dimensions and to the loads table below. Carriages can be standard speed or high speed and standard length or long. The standard accuracy and preload is 'H1' but various preloads and accuracy classes are available - see part number explanation below.
An explanation of our product's part number is here: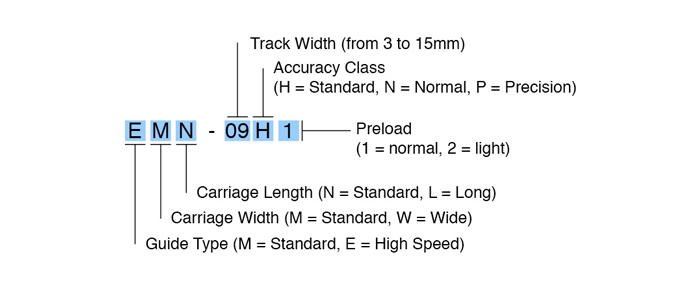 A verison of this product with a wide carriage is also available - please click here.

| | | | | | | | | | | | | | |
| --- | --- | --- | --- | --- | --- | --- | --- | --- | --- | --- | --- | --- | --- |
| Part Number | A | H | W | D | L | B | E | F | r x n | J | h* | t | u x d x v |
| MMN-03H1 | 8 | 4 | 3 | 2.5 | 11.4 | 6.7 | - | 3.5 | M1.6 x 1.1 | 3.0 | 2.6 | 10 | M1.6 |
| MML-03H1 | 8 | 4 | 3 | 2.5 | 15.7 | 11.0 | - | 5.5 | M2 x 1.1 | 3.0 | 2.6 | 10 | M1.6 |
| MMN-05H1 | 12 | 6 | 5 | 3.5 | 16.1 | 10.0 | 8 | - | M2 x 1.5 | 4.5 | 3.5 | 15 | 3.5 x 2.4 x 1 |
| MML-05H1 | 12 | 6 | 5 | 3.5 | 19.6 | 13.5 | - | 7 | M2.6 x 2.0 | 4.5 | 3.5 | 15 | 3.5 x 2.4 x 1 |
| MMN-07H1 | 17 | 8 | 7 | 5.0 | 23.7 | 14.3 | 12 | 8 | M2 x 2.5 | 6.5 | 4.7 | 15 | 4.2 x 2.4x 2.3 |
| MML-07H1 | 17 | 8 | 7 | 5.0 | 31.2 | 21.8 | 12 | 13 | M2 x 2.5 | 6.5 | 4.7 | 15 | 4.2 x 2.4x 2.3 |
| EMN-09H1 | 20 | 10 | 9 | 5.5 | 31.6 | 20.5 | 15 | 10 | M3 x 3 | 8.3 | 5.5 | 20 | 6 x 3.5 x 3.5 |
| MMN-09H1 | 20 | 10 | 9 | 5.5 | 30.8 | 20.5 | 15 | 10 | M3 x 3 | 7.8 | 5.5 | 20 | 6 x 3.5 x 3.5 |
| EML-09H1 | 29 | 10 | 9 | 5.5 | 41.9 | 30.8 | 15 | 16 | M3 x 3 | 8.3 | 5.5 | 20 | 6 x 3.5 x 3.5 |
| MML-09H1 | 20 | 10 | 9 | 5.5 | 40.9 | 30.8 | 15 | 16 | M3 x 3 | 7.8 | 5.5 | 20 | 6 x 3.5 x 3.5 |
| EMN-12H1 | 27 | 13 | 12 | 7.5 | 36.8 | 22.0 | 20 | 15 | M3 x 3.5 | 10.7 | 7.5 | 25 | 6 x 3.5 x 3.5 |
| MMN-12H1 | 27 | 13 | 12 | 7.5 | 35.4 | 22.0 | 20 | 15 | M3 x 3.5 | 10.0 | 7.5 | 25 | 6 x 3.5 x 3.5 |
| EML-12H1 | 27 | 13 | 12 | 7.5 | 49.0 | 34.0 | 20 | 20 | M3 x 3.5 | 10.7 | 7.5 | 25 | 6 x 3.5 x 3.5 |
| MML-12H1 | 27 | 13 | 12 | 7.5 | 47.6 | 34.0 | 20 | 20 | M3 x 3.5 | 10.0 | 7.5 | 25 | 6 x 3.5 x 3.5 |
| EMN-15H1 | 32 | 16 | 15 | 8.5 | 44.6 | 27.0 | 25 | 20 | M3 x 5.5 | 12.8 | 9.5 | 40 | 6 x 3.5 x 4.5 |
| MMN-15H1 | 32 | 16 | 15 | 8.5 | 43.0 | 27.0 | 25 | 20 | M3 x 5.5 | 12.0 | 9.5 | 40 | 6 x 3.5 x 4.5 |
| EML-15H1 | 32 | 16 | 15 | 8.5 | 61.6 | 44.0 | 25 | 25 | M3 x 5.5 | 12.8 | 9.5 | 40 | 6 x 3.5 x 4.5 |
| MML-15H1 | 32 | 16 | 15 | 8.5 | 60.0 | 44.0 | 25 | 25 | M3 x 5.5 | 12.0 | 9.5 | 40 | 6 x 3.5 x 4.5 |
All dimensions are in millimetres. * Dimensions h assumes MMO rail is being used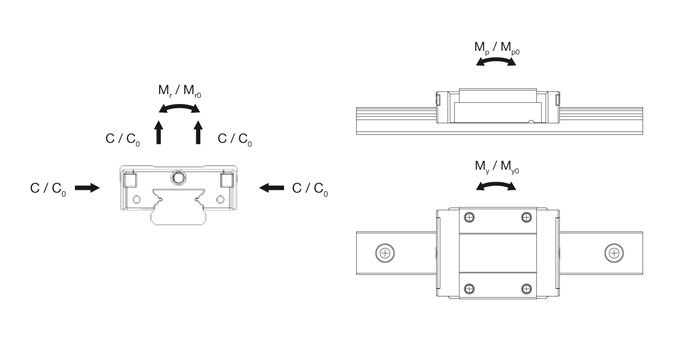 Load Capacities (including static Moments) & Weights:
| | | | | | | | |
| --- | --- | --- | --- | --- | --- | --- | --- |
| Part Number | Dynamic Load (N) | Static Load (N) | Mr0 | Mp0 | My0 | Carriage Weight (g) | Track Weight (g/m) |
| MMN-03H1 | 190 | 310 | 0.6 | 0.4 | 0.9 | 0.9 | 53 |
| MML-03H1 | 295 | 575 | 0.9 | 1.1 | 1.1 | 1.2 | 53 |
| MMN-05H1 | 335 | 550 | 1.7 | 1.0 | 1.0 | 3.5 | 116 |
| MML-05H1 | 470 | 900 | 2.4 | 2.1 | 2.1 | 4.0 | 116 |
| MMN-07H1 | 890 | 1400 | 5.2 | 3.3 | 3.3 | 8.0 | 215 |
| MML-07H1 | 1310 | 2440 | 9.0 | 7.7 | 7.7 | 14 | 215 |
| EMN-09H1 | 1570 | 2495 | 11.7 | 6.4 | 6.4 | 18 | 301 |
| MMN-09H1 | 1570 | 2495 | 11.7 | 6.4 | 6.4 | 18 | 301 |
| EML-09H1 | 2135 | 3880 | 18.2 | 12.4 | 12.4 | 28 | 301 |
| MML-09H1 | 2135 | 3880 | 18.2 | 12.4 | 12.4 | 28 | 301 |
| EMN-12H1 | 2308 | 3465 | 21.5 | 12.9 | 12.9 | 37 | 602 |
| MMN-12H1 | 2308 | 3465 | 21.5 | 12.9 | 12.9 | 37 | 602 |
| EML-12H1 | 3240 | 5630 | 34.9 | 30.2 | 30.2 | 54 | 602 |
| MML-12H1 | 3240 | 5630 | 34.9 | 30.2 | 30.2 | 51 | 602 |
| EMN-15H1 | 3810 | 5590 | 43.6 | 27.0 | 27.0 | 64 | 930 |
| MMN-15H1 | 3810 | 5590 | 43.6 | 27.0 | 27.0 | 61 | 930 |
| EML-15H1 | 5350 | 9080 | 70.0 | 63.3 | 63.3 | 93 | 930 |
| MML-15H1 | 5350 | 9080 | 70.0 | 63.3 | 63.3 | 90 | 930 |
Standard speed carriage (MMN / MML) :
Maximum speed = 3m/s; Maximum acceleration = 250m/s2
High speed carriage (EMN / EML) :
Maximum speed > 5m/s; Maximum acceleration = 300m/s2
Operating Temperatures:
Safe operating temperature of -40ºC to +70ºC